Basel | Bacon – Giacometti, from April 29 at the Fondation Beyeler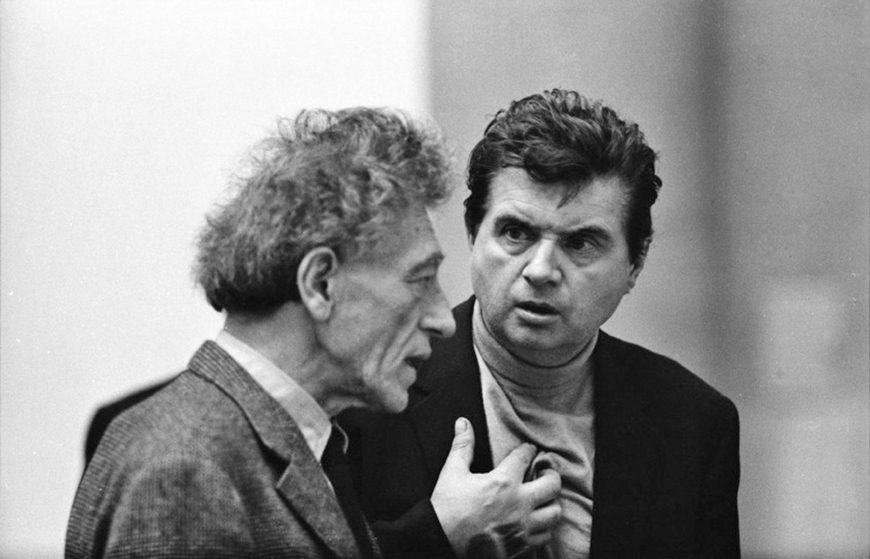 From April 29, 2018 the Fondation Beyeler will be presenting two extraordinary protagonists of modern art. Alberto Giacometti (1901–1966) and Francis Bacon (1909–1992) were friends and rivals whose creative visions shaped art from the latter half of the twentieth century to the present day.
ALBERTO GIACOMETTI AND FRANCIS BACON, 1965
Gelatin silver print
This is the first time that a museum exhibition is being devoted to shedding light on these two artists and their relationship to each other. Although their respective artistic oeuvres differ greatly at first glance and appear autonomous, the exhibition reveals commonalities and amazing parallels between them. Presented together, their lives and creative personalities will be seen a new light.
While the individualists Giacometti and Bacon perceived each other like signal emitting lighthouses, the curators Catherine Grenier, director of the Fondation Giacometti in Paris, Michael Peppiatt, Bacon expert and a personal friend of the artist, as well as Ulf Küster, curator at the Fondation Beyeler, make astonishing parallels visible in this exhibition encompassing circa 100 works.
Bacon and Giacometti shared an unshakable belief in the importance of the human figure and the role played by the old masters they both studied, copied and paraphrased. Both were interested in the problem of the two-dimensional and threedimensional representation of space, integrating cage-like entities into their works as a means of isolating figures in their surroundings. Both occupied themselves with the fragmented and deformed body and also shared an obsession with portraiture in addition to the associated depiction of human individuality. Both characterized themselves as 'realists'. And although the human figure always served as a benchmark in their work, they each raised its level of abstraction to an extreme in his own way. By doing so, they called the antithesis of figuration and abstraction into question that was of such central importance for the history of modern art.
It has been possible to obtain loans of works by Francis Bacon from major private collections and renowned museums from around the world, including the Art Institute in Chicago, the Museum of Modern Art, New York and the Centre Pompidou, Paris. The Giacometti loans come almost entirely from the Fondation Giacometti in Paris. They include numerous original plaster sculptures from the artist's estate that have never before been shown in public.
FRANCIS BACON, THREE STUDIES FOR PORTRAITS (INCLUDING SELF-PORTRAIT),1969
Oil on canvas, 35.5 x 30.5 cm. Private Collection
© The Estate of Francis Bacon. All rights reserved / 2018, ProLitteris, Zurich.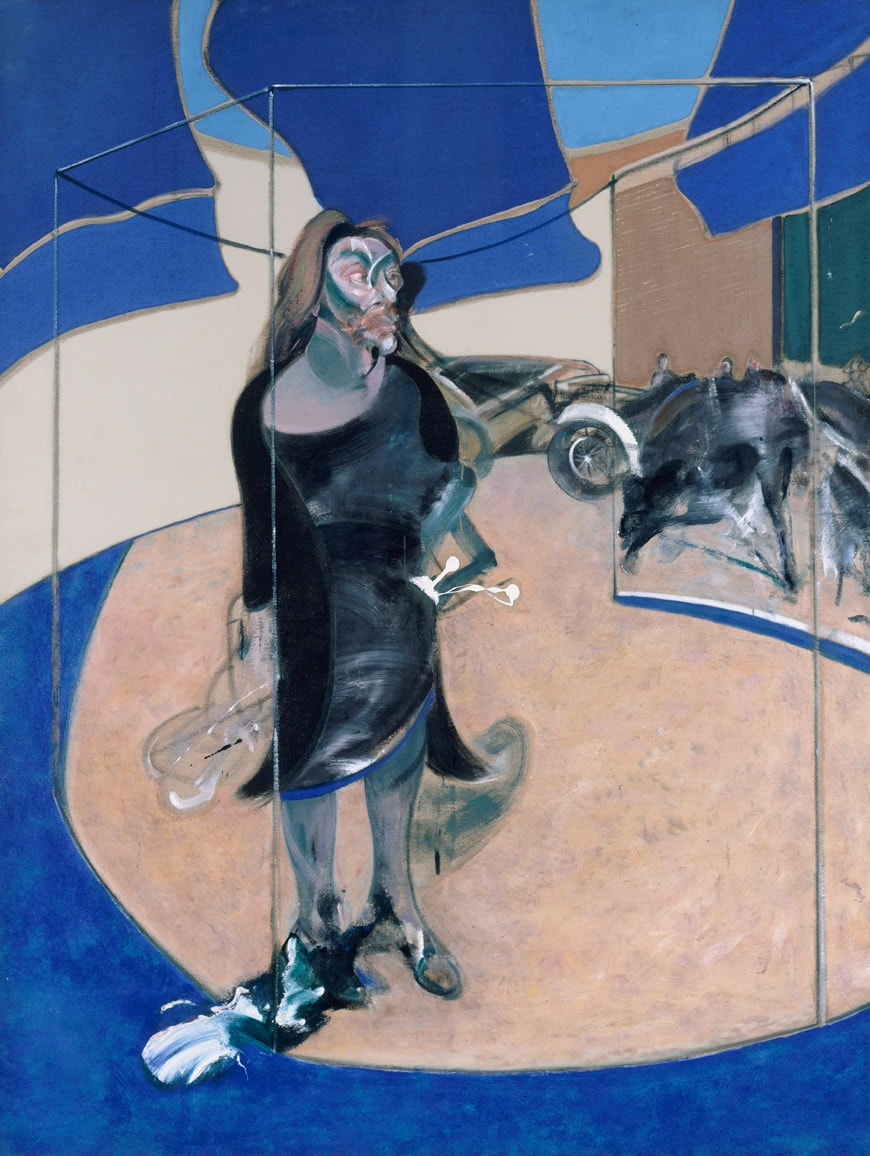 FRANCIS BACON, PORTRAIT OF ISABEL RAWSTHORNE STANDING IN A STREET IN SOHO, 1967
Oil on canvas,198 x 147 cm.
Staatliche Museen zu Berlin, Nationalgalerie. 1967 acquired by the estate of Berlin
© The Estate of Francis Bacon. All rights reserved / 2018, ProLitteris, Zurich
Photo: © bpk / Nationalgalerie, Staatliche Museen zu Berlin / Jörg P. Anders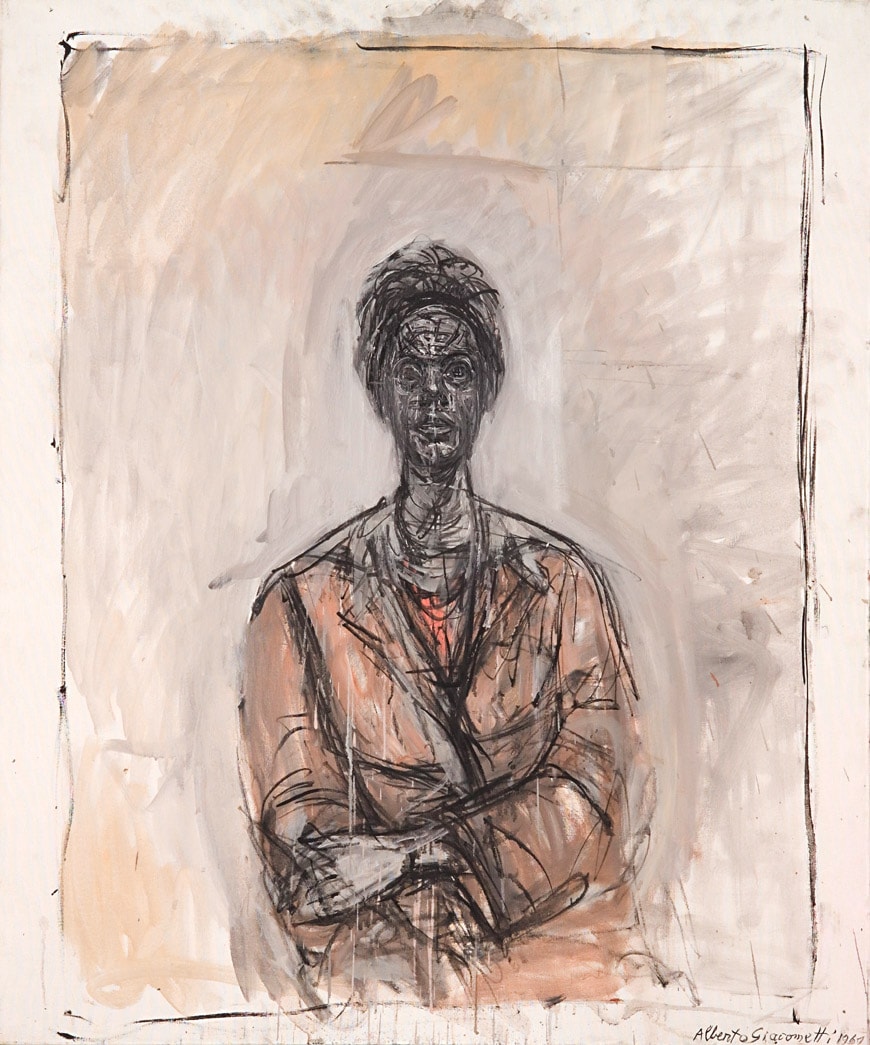 ALBERTO GIACOMETTI, CAROLINE, 1961
Oil on canvas,100 x 82 cm.
Fondation Beyeler, Riehen/Basel, Beyeler Collection. © Succession Alberto Giacometti / 2018, ProLitteris, Zurich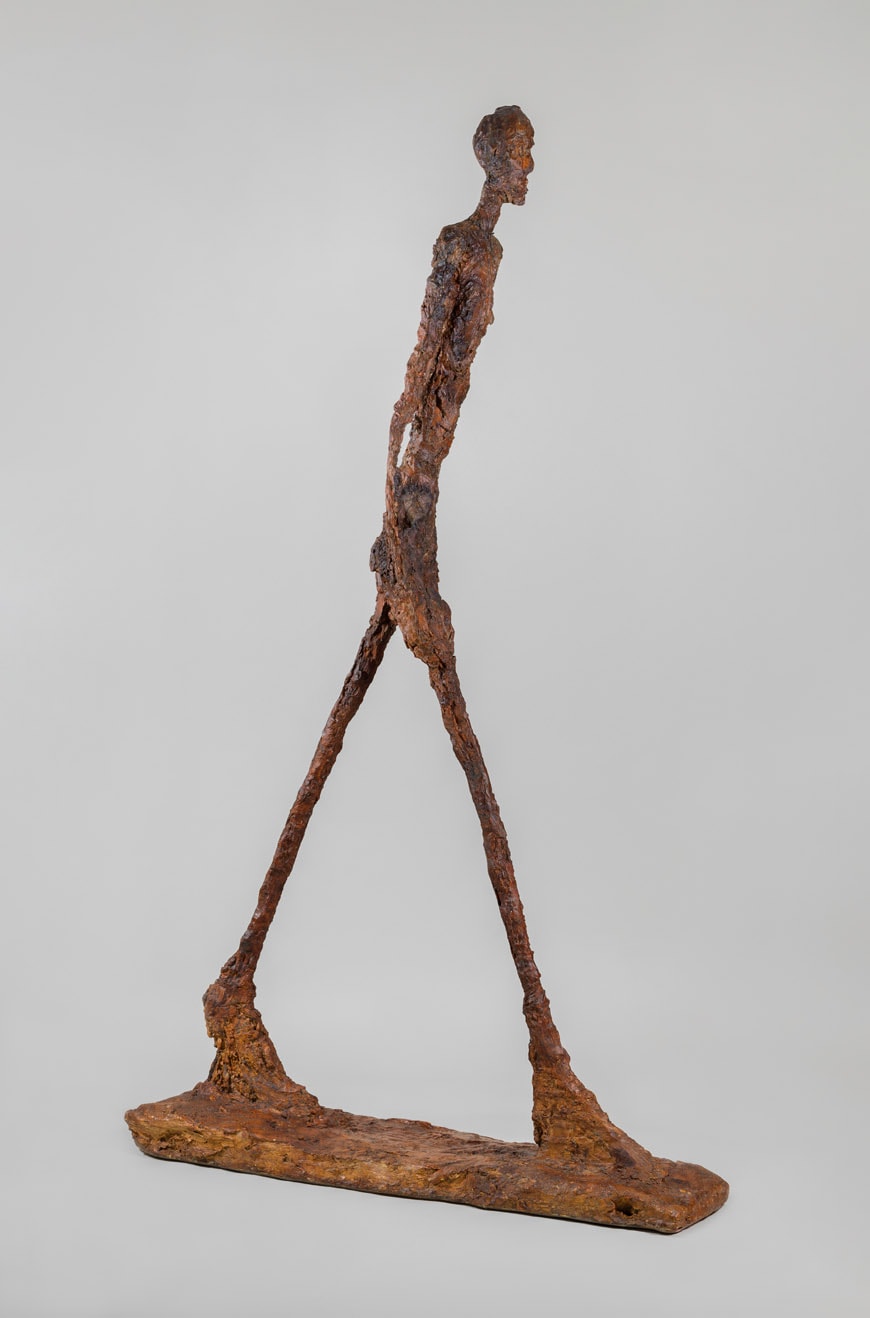 ALBERTO GIACOMETTI, L'HOMME QUI MARCHE II, 1960
Plaster. 188.5 x 29.1 x 111.2 cm.
Coll. Fondation Giacometti Paris. © Succession Alberto Giacometti / 2018, ProLitteris, Zurich
Bacon – Giacometti
April 29 / September 2, 2018
FONDATION BEYELER
Baselstrasse 101
CH-4125 Riehen/Basel
---
---
You may also be interested in...
Fondation Beyeler
---
More in Basel
Basel
---
---
copyright Inexhibit 2019 - ISSN: 2283-5474