Basel | 50 masterpieces of Claude Monet at the Fondation Beyeler
By FEDERICA LUSIARDI - December 13, 2016
To mark its twentieth anniversary, the Fondation Beyeler is presenting one of the most important and best-loved artists: Claude Monet.
cover-image: Claude Monet, En Norvégienne, 1887
Oil on canvas, 97.5 x 130.5 cm
Musée d'Orsay, Paris, bequest Princesse Edmond de Polignac, 1947 
Photo: © RMN-Grand Palais (Musée d'Orsay) / Hervé Lewandowski

The exhibition will be a celebration of light and color, illustrating the artistic development of the great French painter from Impressionism to his famous late work.
It will feature his Mediterranean landscapes, wild Atlantic coastal scenes, different stretches of the Seine, meadows with wild flowers, haystacks, water lilies, cathedrals, and bridges shrouded in fog.
In his paintings, Monet experimented with changing light and color effects in the course of a day and in different seasons. He succeeded in evoking magical moods through reflections and shadows. Claude Monet was a great pioneer, who found the key to the secret garden of modern painting, and opened everyone's eyes to a new way of seeing the world.
The exhibition will bring together fifty masterpieces from private collections and renowned museums such as the Musée d'Orsay in Paris, the Pola Museum in Japan, the Metropolitan Museum in New York, and the Art Institute in Chicago.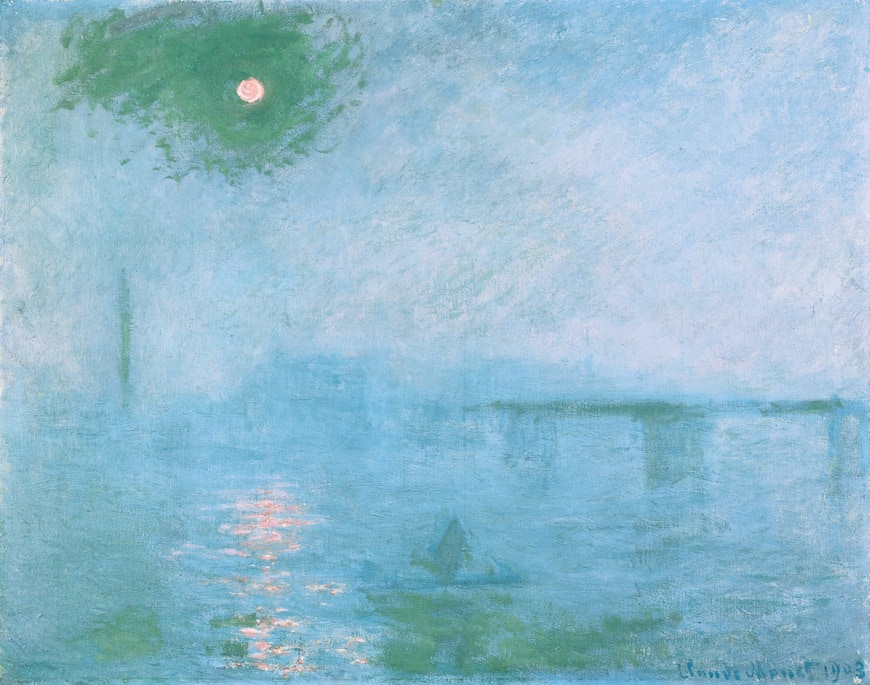 Claude Monet, Charing Cross Bridge, brouillard sur la Tamise, (Charing Cross Bridge: Fog on the Thames),1903.
Oil on canvas, 73,7 x 92,4 cm 
Harvard Art Museums/Fogg Museum, donation Mrs. Henry Lyman, 1979
Photo: Imaging Department © President and Fellows of Harvard College
Claude Monet, Nymphéas,(Water-Lilies) 1916-1919 
Oil on canvas, 200 x 180 cm 
Fondation Beyeler, Riehen/Basel, Beyeler Collection
Photo: Robert Bayer
Monet
[temporary exhibition]
January 22 / May 28, 2017
Fondation Beyeler
Baselstrasse 101, CH-4125 Riehen / Basel, Switzerland
Claude Monet, Vue de Bordighera, (View of Bordighera), 1884 
Oil on canvas, 66 x 81.8 cm 
The Armand Hammer Collection, donation Armand Hammer Foundation, Hammer Museum, Los Angeles
Images courtesy of Fondation Beyeler. https://www.fondationbeyeler.ch/en/Home
---
---
You may also be interested in...
---
More in Basel
Basel
---
---