Barcelona | "After the end of the world" visions and strategies for Planet Earth at CCCB
Once again, CCCB – the Contemporary Art Center of Barcelona, proves to be a vibrant venue and an institution truly committed to investigate the present. A place of reflection where to explore the big themes of our times.
cover image: Early sea-ice breakup in Beaufort Sea, Arctic © Nasa
From 25 October, 2017 through 29 April, 2018, CCCB features an exhibition (though this definition may be a bit reductive), entitled "Després de la fi del món"(After the end of the world). The exhibition is actually a collaborative event focused on one of these days' biggest challenges for mankind: Global Climate Change.
Through contributions from both human and non-human beings – scientists, writers, designers, philosophers, and also plants, objects and sea creatures – "After the end of the world" is an hypnotic and immersive experience, which prefigures future scenarios, tells stories, and delineates strategies for survival and for a peaceful coexistence on our planet.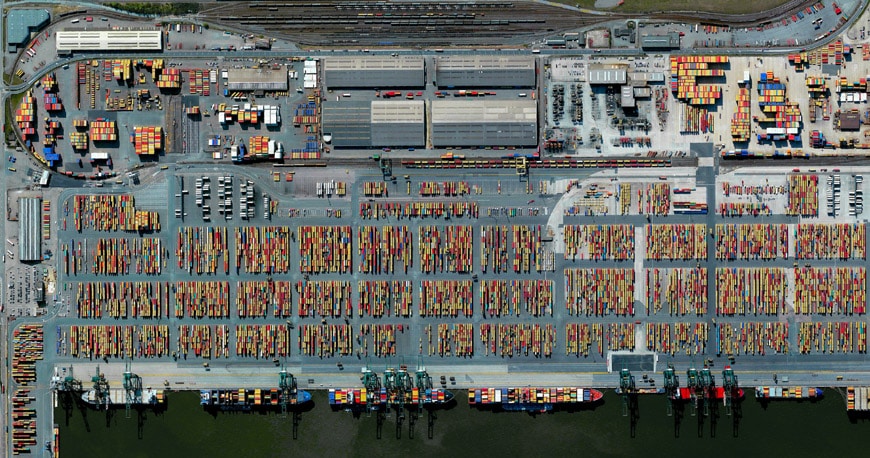 Port of Antwerp, Satellite imagery © DigitalGlobe, Inc
The event consists of eight installations located in the CCCB's main gallery, a participatory workshop – named City Station – taking place in Barcelona's public space, and the creation and launch of a "Ministry of the Future" aimed to elaborate long-term policies for our society's most relevant issues.
Among others, people and groups involved in the event include Tomás Saraceno (Argentina), who presents Aeroceno Space Agency, an utopian architectural design in which the atmosphere is the new frontier for human expansion; Rimini Protocoll (Germany),  a theater company that offers a striking depiction of which animal species will prosper and which will succumb in the climate crisis; and Charles Lim (Singapore) presenting for the first time his research on the terraforming of Singapore, a country constantly fighting against rising seas.
The exhibition is curated by José Luis de Vicente and produced by CCCB in collaboration with FACT / BLUECOAT / RIBA North, Liverpool.
"After the end of the world"
CCCB – Centre de Cultura Contemporània de Barcelona
25 October, 2017 / 29 April 2018
http://www.cccb.org/en
Sun Lakes, Arizona. Satellite imagery © DigitalGlobe, Inc
Piscines de Chile Rockwood Lithium © Unknown Fields
Images courtesy of CCCB.
China wholesale market. © Unknown Fields
---
---
You may also be interested in...
CCCB – Centre de Cultura Contemporània de Barcelona
---
More in Barcelona
Barcelona
---
copyright Inexhibit 2019 - ISSN: 2283-5474