At the Vitra Design Museum on view the Architecture of the Collective
The Vitra Museum in Weil am Rhein presents "Together! The New Architecture of the Collective". The exhibition is a survey of the most interesting projects and experiments of collective residences designed, from the 19th century to the present.
cover: Open air dinner, Siedlung Heizenholz, Kraftwerk1, Zurich. Adrian Streich Architekten, Zurich, 2012 © Katrin Simonett/VG Bild-Kunst, Bonn 2017.
As price of dwellings in large cities continues to rise, the "housing question" has become an increasingly serious problem in the last years. Since conventional solutions to affordable housing seem to be unable to give an answer to a large part of the population, architects and planners must adopt a new approach apt to deal with novel forms of living and working, for example by creating spaces and household goods which can be shared among many individuals.
The exhibition "Together! The New Architecture of the Collective" investigates this global phenomenon, by the menas of a number of projects from Europe, Asia, and the United States.
An overview of the most recent housing designs, many characterized by a blurred boundary between private and urban space, between personal and public realms.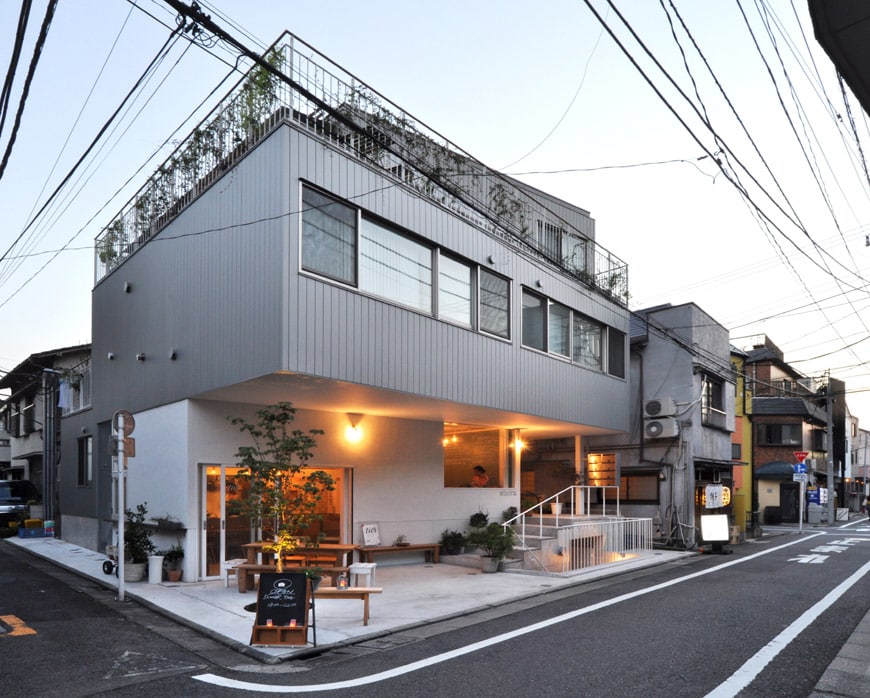 Apartments with a Small Restaurant, Tokyo, 2014. Naka Architects' Studio © Naka Architects' Studio.
Community space at Haus J, Genossenschaft mehr als wohnen, Zurich, 2014.
pool Architekten, Zurich Photo: Niklaus Spoerri
In the exhibition, an historical section demonstrates how much experiments of collective space have been a recurrent subject in architecture and society, from 19th century pioneering proposals such as the Phalanstères by Charles Fourier (1772–1837), to experimental communities like Christiania in Copenhagen and the Karthago cooperative in Zurich, to the hippy counterculture communities of the '60s and '70s, up to 20th century squatting.
Familistère de Guise, schoolchildren in the courtyard of the central building, 1890 © Collection Familistère de Guise.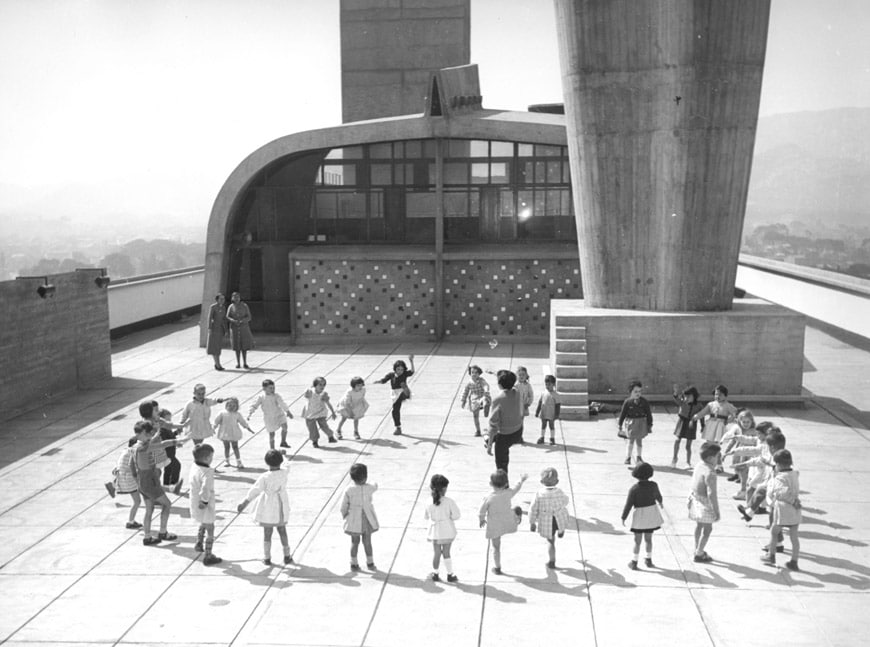 Le Corbusier, Unité d'Habitation © Fondation Le Corbusier/VG Bild-Kunst, Bonn 2017
Kommune 1, 1968 © Werner Bokelberg 
Featured architects: Dorte Mandrup Arkitekter (DK), CASA Architecten und Vrijburcht Stichting (NL), ifau und Jesko Fezer/Heide von Beckerath (DE), Hütten und Paläste Architekten (DE), Naruse Inokuma Architects (JP), Naka Architects' Studio (JP), Studio mnm (JP), Osamu Nishida and Erika Nakagawa (JP), Ryue Nishizawa (JP), ON design partners (JP), Jinhee Park, SsD (KR), pool Architektur ZT (AT), gaupenraub +/- (AT), einszueins architektur (AT), Buol & Zünd (CH), Beat Rothen Architektur (CH), Müller Sigrist Architekten (CH), pool Architekten (CH), Enzmann Fischer und Partner (CH), Schneider Studer Primas (CH), Lacol Cooperativa d'Arquitectes (ES), BKK-2 (AT), Silvia Carpaneto + fatkoehl architekten + BARarchitekten with Die Zusammenarbeiter (DE), Michael Maltzan Architecture (USA), Duplex Architekten (CH), Santiago Cirugeda of Recetas Urbanas (ES), all(zone) (TH).
Spreefeld Berlin zusammenarbeiter / carpaneto / fat koehl / bar architekten, Berlin.
Photo: Ute Zscharnt
House for Seven People, Tokyo studio mnm, Tokyo, 2013 © Sadao Hotta
Songpa Micro-Housing, Seoul, 2014. Jinhee Park/SsD, New York/Seoul. © SsD
Model of a collective city, 2017. Photo: Hannes Henz Architekturfotograf 
"Together! The New Architecture of the Collective"
From June 3 through September 10, 2017
Vitra Design Museum
Charles-Eames-Straße 2
Weil am Rhein/Basel
---
---
---
More in Basel
Basel
---
copyright Inexhibit 2020 - ISSN: 2283-5474