---
2017 Chicago Architecture Biennial | themes and participants
By FEDERICA LUSIARDI - September 2, 2017
Entitled "Make new History", the second edition of CAB – Chicago Architecture Biennial takes place from September 16, 2017, through January 7, 2018.
cover image: Chicago Cultural Center,  Washington Street, Courtesy Chicago Architecture Biennial, 2017.
Curated by Sharon Johnston and Mark Lee, founders of Los Angeles-based architectural office Johnston Marklee, "Make New History" develops along two main thematic lines. The first line explores the fracture that marked the architecture of the 20th century as the outcome of the two opposed visions; on one side, that of modernist architects, on the other side that of those who tried to incorporate historical models into the architectural design of the time. A dicotomy which, for the curators, has been made largely obsolete by a new generation of architects who, taking the cue from "the precedents of architecture", are able to conjugate a contemporary vision with references to architectural tradition, as well as to create relationship between their designs and the historical and cultural context their buildings are set into.
The second line investigates the relationship, increasingly more strict and fluid, between architecture and art, two fields which often combine into public space design.
Some 140 architectural offices from all over the world will present works focused of the "Makes New History" theme  at the main venue of this year's biennial, the Chicago Cultural Center on Washington Street, and in various other locations across the city.
2017 Chicago Architecture Biennial – Participants
51N4E ; 6a architects ; Ábalos + Sentkiewicz and Armin Linke ; Adamo-Faiden ; addenda architects with Joachim Brohm and Moritz Küng ; AGENdA -agencia de arquitectura ; Aires Mateus ; An Te Liu ; Andrew Kovacs ; Angela Deuber Architect ; Ania Jaworska; Aranda\Lasch and Terrol Dew Johnson ; Archi-Union Architects ; architecten de vylder vinck taillieu; Architecture of the VII Day ; Atelier Manferdini ; AWP office for territorial reconfiguration ; Bak Gordon Arquitectos ; Barbas Lopes Arquitectos ; Barkow Leibinger; Barozzi Veiga ; Baukuh and Stefano Grazian i; Besler & Sons LLC ; BLESS; Brandlhuber+ and Christopher Roth ; BUREAU SPECTACULAR.
6A architecture, Photography Studio for Juergen Teller, North Kensington, London, 2016 .
© Johan Dehlin.
Barkow Leibinger , "Blautopf', Berlin , Event+Exhibition space, Restaurant, Café, Conference Rooms, 2006-2008.
Besler and Sons, Moma PS1 Young Architects Program, 2015 , Roof Deck.
Cameron Wu ; Caruso St John with Thomas Demand and Hélène Binet ; Charlap Hyman & Herrero ; Charles Waldheim with Office for Urbanization Harvard Graduate School of Design and Siena Scarff Design ; Christ & Gantenbein ; Christian Kerez ; Daniel Everett ; David Schalliol ; Dellekamp Arquitectos ; Design With Company ; Diego Arraigada Arquitectos ; Dogma ; Dominique Perrault Architecture ; DRDH Architects ; Ensamble Studio ; Éric Lapierre Architecture ; Fake Industries Architectural Agonisms and Aixopluc ; fala atelier ; Filip Dujardin ; Fiona Connor and Erin Besler ; First Office ; formlessfinder ; Fosbury Architecture ; Francois Perrin ; Frida Escobedo ; Gerard & Kelly ; Go Hasegawa ; HHF Architects ; IIT College of Architecture + SANAA ; Iñigo Manglano-Ovalle ; J. MAYER H. und Partner Architekten and Philip Ursprung ; James Welling ;Jesús Vassallo ; Jorge Otero-Pailos ; June14 Meyer-Grohbrügge & Chermayeff ; junya ishigami+associates ; Karamuk * Kuo Architects ; Katharina Gaenssler ; Keith Krumwiede ; Kéré Architecture ; Khoury Levit Fong ; Kuehn Malvezzi .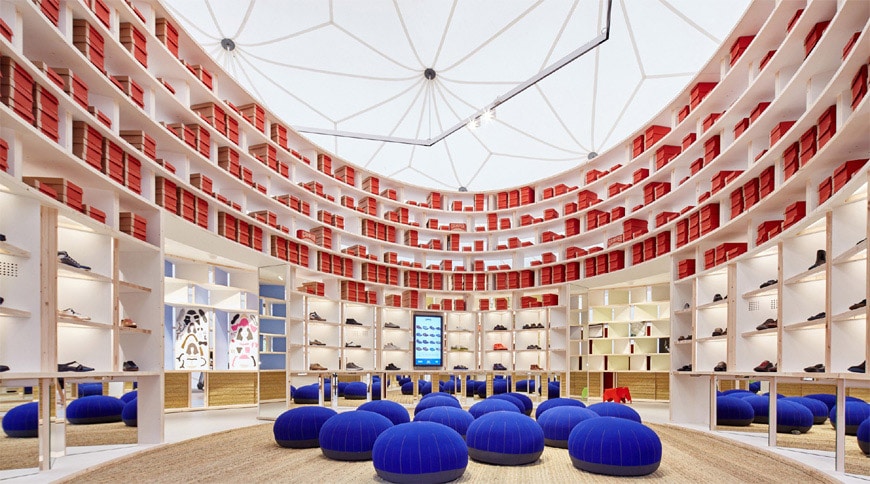 Kéré Architecture, Camper Pop-up Shop, Vitra Campus, Weil am Rhein / Germany
LAN with Franck Boutté and project produced by Pavilion de l'Arsenal ; l'AUC as l'AUC ; Luca Galofaro ; Luisa Lambri ; Lütjens Padmanabhan Architekten ; Machine Project ; Made in ; MAIO ; MALL ; Marianne Mueller ; Marshall Brown ; Matilde Cassani ; MG&Co.; Michelle Chang ; Monadnock ; MOS ; Norman Kelley ; Nuno Brandão Costa with André Cepeda ; OFFICE Kersten Geers David Van Severen with Peter Wächtler and Michael Van den Abeele ; Pascal Flammer ; Paul Andersen and Paul Preissner ; Pezo von Ellrichshausen Arquitectos ; Philipp Schaerer ; Philippe Rahm architectes ; Piovene Fabi and Giovanna Silva ; Point Supreme ; PRODUCTORA , REAL Foundation ; Robert Somol ; SADAR+VUGA ; Sam Jacob Studio ; SAMI-arquitectos and Paulo Catrica ; Sauter von Moos ; Scott Fortino ; Sergison Bates ; Serie Architects ; SHINGO MASUDA + KATSUHISA OTSUBO Architects ; SO-IL and Ana Prvački ; Stan Allen Architect ; Studio Anne Holtrop ; Studio Gang; Studio Mumbai ; Sylvia Lavin with Erin Besler and Norman Kelley ; T + E + A + M ; Tatiana Bilbao Estudio ; Tham & Videgård Arkitekter ; The Empire with Ilaria Forti, Joseph Swerdlin, and Barbara Mondolo ; The Living ; The Los Angeles Design Group ; Theaster Gates ; Thomas Baecker Bettina Kraus ; Tigerman McCurry Architects ; Toshiko Mori Architect ; UrbanLab ; Urbanus ; Veronika Kellndorfer ; WELCOMEPROJECTS ; WORKac ; Zago Architecture ; ZAO/Standardarchitecture.
LAN, EDF Archives Centre, Bure-Saudron / France, 2011. Copyright Julien Lanoo.
Studio Mumbai, Saat Rasta, Mumbai, India, 2011-2016. Seven studio/homes of varying size slip discreetly into a walled enclosure of an old Mumbai warehouse.
Over 100 partner organizations collaborate with the Chicago Architecture Biennial to a program of exhibitions and events running for the entire duration of the Biennial until January 7, 2018. The Biennial and its partners will also explore the great historical heritage of Chicago as a source of ideas, with the involvement of various institutions, museums, galleries, and cultural foundations across the city and its region.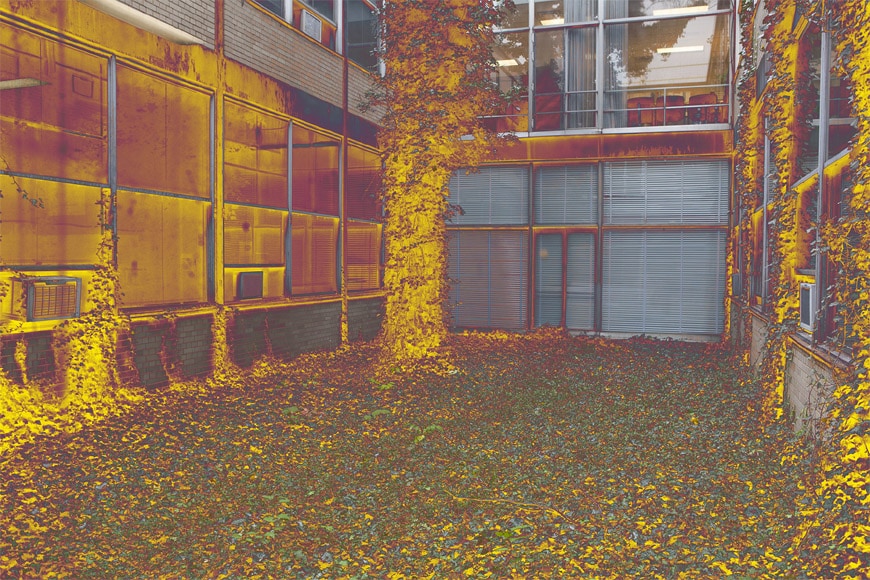 James Welling's project Chicago, commissioned for the 2017 Chicago Architecture Biennial, comprises photographs of modernist architect Mies van der Rohe's Illinois Institute of Technology campus and Lake Shore Drive apartments. Welling first encountered the work of Mies early in his career, while photographing models and design objects in the Department of Architecture and Design of the Museum of Modern Art under Arthur Drexler.
In Chicago, Welling re-creates digital versions of lesser-known multi-film exposure techniques invented over 50 years ago to make experimental color photography.
2017 Chicago Architecture Biennial
http://chicagoarchitecturebiennial.org/
More in Chicago
Chicago
---
---