Tra danza e arte "Merce Cunningham: Common Time", MCA Chicago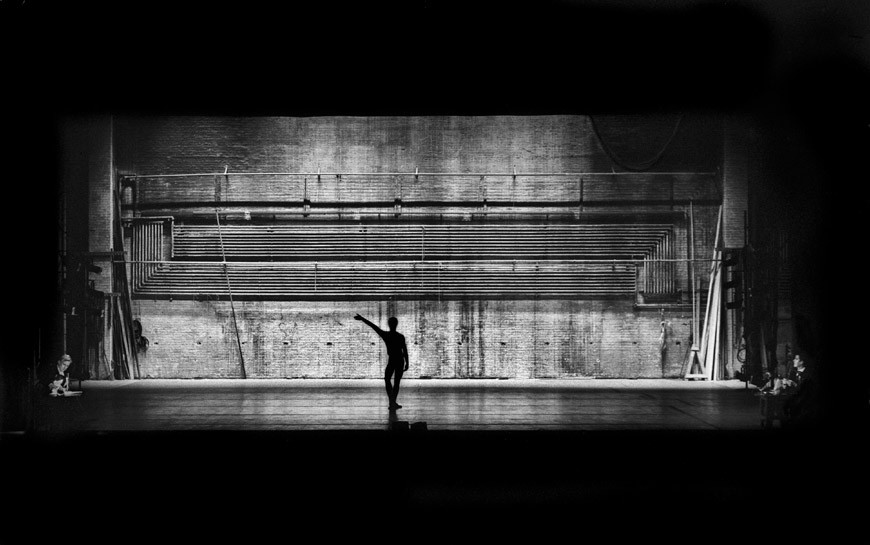 Il Museum of Contemporary Art Chicago e Walker Art Center di Minneapolis dedicano una mostra al grande coreografo e danzatore Merce Cunningham e alle sue collaborazioni artistiche.

copertina: Merce Cunningham durante le prove di How to Pass, Kick, Fall and Run, Brooklyn Academy of Music, 1970. Foto: James Kosty, courtesy of the photographer.
Intitolata Merce Cunningham: Common Time, la mostra aprirà contemporaneamente a Febbraio nelle due sedi di Chicago e Minneapolis e sarà affiancata da performance di compagnie di danza internazionali e dai danzatori della ex Merce Cunningham Dance Company.
Coreografo e ballerino, Cunningham (1919-2009) ha rivoluzionato la danza nel 20° secolo e continua ad influenzare generazioni di artisti, compositori e coreografi. Attraverso fondali, allestimenti, costumi, fotografie, video e installazioni, la mostra evidenzia le molteplici collaborazioni multidisciplinari di Cunningham e di MCDC con importanti artisti del dopoguerra come John Cage, Robert Rauschenberg , Jasper Johns, Robert Morris  Bruce Nauman, Nam June Paik, Frank Stella e Andy Warhol .
Merce Cunningham Dance Company danza Canfield, Brooklyn Academy of Music, 1970
Foto: James Klosty, courtesy del fotografo.
La mostra è anche una rara opportunità di vedere installazioni immersive, innovative e poco conosciute, realizzate da artisti come Charles Atlas ed Ernesto Neto; lo show include anche la famosa installazione di Andy Warhol con palloncini d'argento per Rain Forest, e MC9 di Charles Atlas, con proiezioni video che raccontano 35 anni di performance di Cunningham.
Robert Rauschenberg, Costumi per Antic Meet,1958. Collezione del Walker Art Center, Merce Cunningham Dance Company Collection, dono di Jay F. Ecklund, the Barnett and Annalee Newman Foundation, Agnes Gund, Russell Cowles e Josine Peters, the Hayes Fund of HRK Foundation, Dorothy Lichtenstein, MAHADH Fund of HRK Foundation, Goodale Family Foundation, Marion Stroud Swingle, David Teiger, Kathleen Fluegel, Barbara G. Pine, e T. B. Walker Acquisition Fund, 2011. 
Charles Atlas, Immagine da Merce by Merce by Paik. Part One: Blue Studio: Five Segments, 1975–76. © Charles Atlas. Courtesy of the artist e Luhring Augustine.
Vista della scenografia per Views on Stage, 2004, in Dance Works II: Merce Cunningham/Ernesto Neto, Walker Art Center, Minneapolis, 2012. Foto: Gene Pittman.
Charles Atlas, MC9, 2012. Vista dell'installazione. Charles Atlas e collaboratori, BMW Tate Live, The Tanks, Tate Modern, 2013. Edition of 3 and 2 artist's proofs. © Charles Atlas e Tate. Foto: Gabrielle Fonseca Johnson per Tate Photography. 
Merce Cunningham: Common Time
11 febbraio – 30 aprile 2017
Museum of Contemporary Art Chicago
220 E Chicago Ave Chicago IL 60611
web-site: https://mcachicago.org/
---
---
---
Altro a Chicago
Chicago
---
copyright Inexhibit 2022 - ISSN: 2283-5474