New York | Hy-Fi installazione al MoMA PS1
Luogo: New York
,
Nazione:United States
MoMA PS1
Progetto:
David Benjamin, The Living - New York
www.thelivingnewyork.com/
Strutture: Arup
http://www.arup.com/
Testo di Riccardo Bianchini, Inexhibit
Fotografie di Andrew Nunes. Gentilmente concesse da The Creators Project
http://thecreatorsproject.vice.com/
Hy-Fi, l' installazione vincitrice di YAP 2014 al MoMA PS1
Grazie alla collaborazione di The Creative Project, pubblichiamo alcune immagini di Hy-Fi, l'installazione progettata da David Benjamin dello studio The Living di New York, inaugurata al MoMA PS1.
Hy-Fi è il progetto vincitore di YAP 2014 (Young Architects Program) il programma di sostegno ai giovani studi di architettura che MoMA e  MoMA PS1 promuovono dal 1998.
Il progetto vincitore di quest'anno getta uno sguardo sulla possibile architettura del futuro, prevedendo una torre biomorfa realizzata con un tipo completamente nuovo di mattoni, realizzati seguendo un processo innovativo ideato da David Benjamin: partendo da scarti agricoli e mediante l'azione di un micelio (la parte di radice dei funghi), i mattoni vengono formati in cinque giorni senza quasi alcuna altra azione produttiva.
Immagine di The LIving. Courtesy of MoMA PS1
L'idea è "localizzare" la produzione di elementi costruttivi di base, come i mattoni, evitando l' importazione da luoghi remoti e limitando  il corrispondente impatto sull'ambiente e sulle risorse naturali.
Dal momento che la resistenza dei mattoni ai carichi e agli agenti atmosferici  era sconosciuta, gli elementi sono stati testati e i risultati sono stati quindi passati ad Arup che ha proceduto a verificare la struttura e all'ottimizzazione del progetto.
Alla fine della sua vita utile, l'intera costruzione potrebbe essere ridotta a compost e utilizzata per fertilizzare aree verdi, giardini e frutteti a New York City.
Si veda anche l'intervista di the creators project a David Benjamin:
http://thecreatorsproject.vice.com/blog/hy-fi-the-livings-local-sustainable-10000-brick-mushroom-tower-at-moma-ps1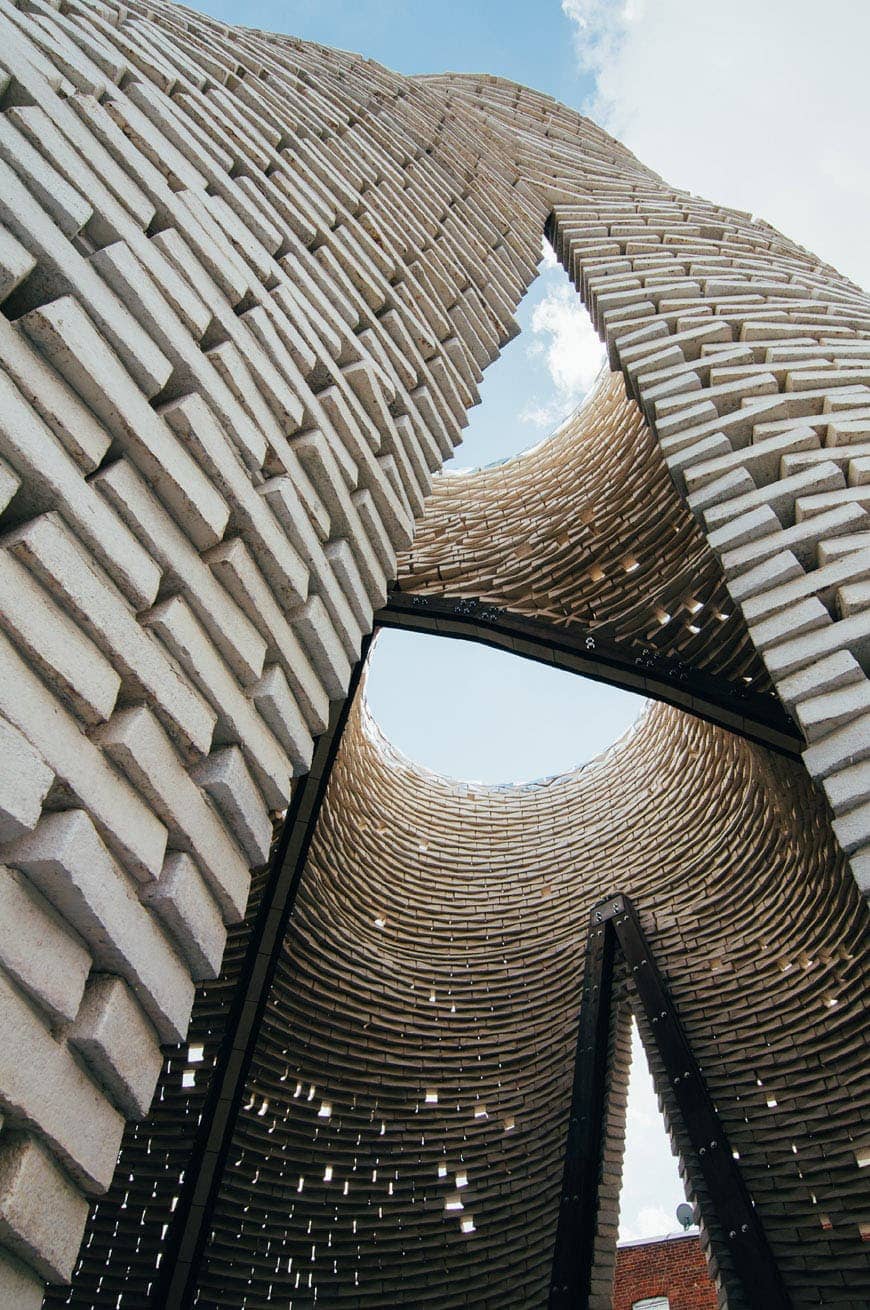 Fotografie di Andrew Nunes. Courtesy of The Creators Project
---
---
Altro a New York City
New York City
---
copyright Inexhibit 2022 - ISSN: 2283-5474