New York | Hy-Fi installation at MoMA PS1
Place: New York
,
Country: United States
Client: MoMA and MoMA PS1
Installation design:
David Benjamin, The Living - New York
www.thelivingnewyork.com/
Structural engineering: Arup
http://www.arup.com/

Text by Riccardo Bianchini, Inexhibit
Photos by Andrew Nunes. Courtesy of The Creators Project
http://thecreatorsproject.vice.com/

Hy-Fi summer installation at the MoMA PS1
Thanks to The Creators Project we can report some of the first images by Andrew Nunes of the new Hy-Fi summer installation designed by David Benjamin from New York-based The Living architects and just inaugurated at the MoMA PS1 in New York.
Hy-Fi is the winning design of the 2014 edition of YAP (Young Architects Program), the open-submission design competition which the MoMA and MoMA PS1 are running since 1998.
This year's project casts a glimpse on the possible architecture of the future, envisaging a biomorph tower, made of a completely new kind of bricks. Such bricks are indeed manufactured following an innovative process, conceived by David Benjamin himself, which, by starting from agricultural waste and through the action of a mycelium (the root part of mushrooms), creates them in five days without almost any other complex manufacturing action.
Image by The LIving. Courtesy of MoMA PS1
The idea is to "localize" the production of basic constructive elements, such as bricks, avoiding their usual import from remote places and the corresponding impact on the environment and on natural resources.
Since the bricks resistance to loads and weather was unknown, they had to be tested in lab, then passing the results to the structural engineer, Arup, which through computer-aided simulations proceeded to verify the structure and returned the data to The Living for a fine-tuning of the complex geometry of the project.
At the end of its working life, the whole construction could be reduced to compost and used to fertilize green areas, gardens and orchards in New York City.
See also the interview at David Benjamin on The Creators Project here: http://thecreatorsproject.vice.com/blog/hy-fi-the-livings-local-sustainable-10000-brick-mushroom-tower-at-moma-ps1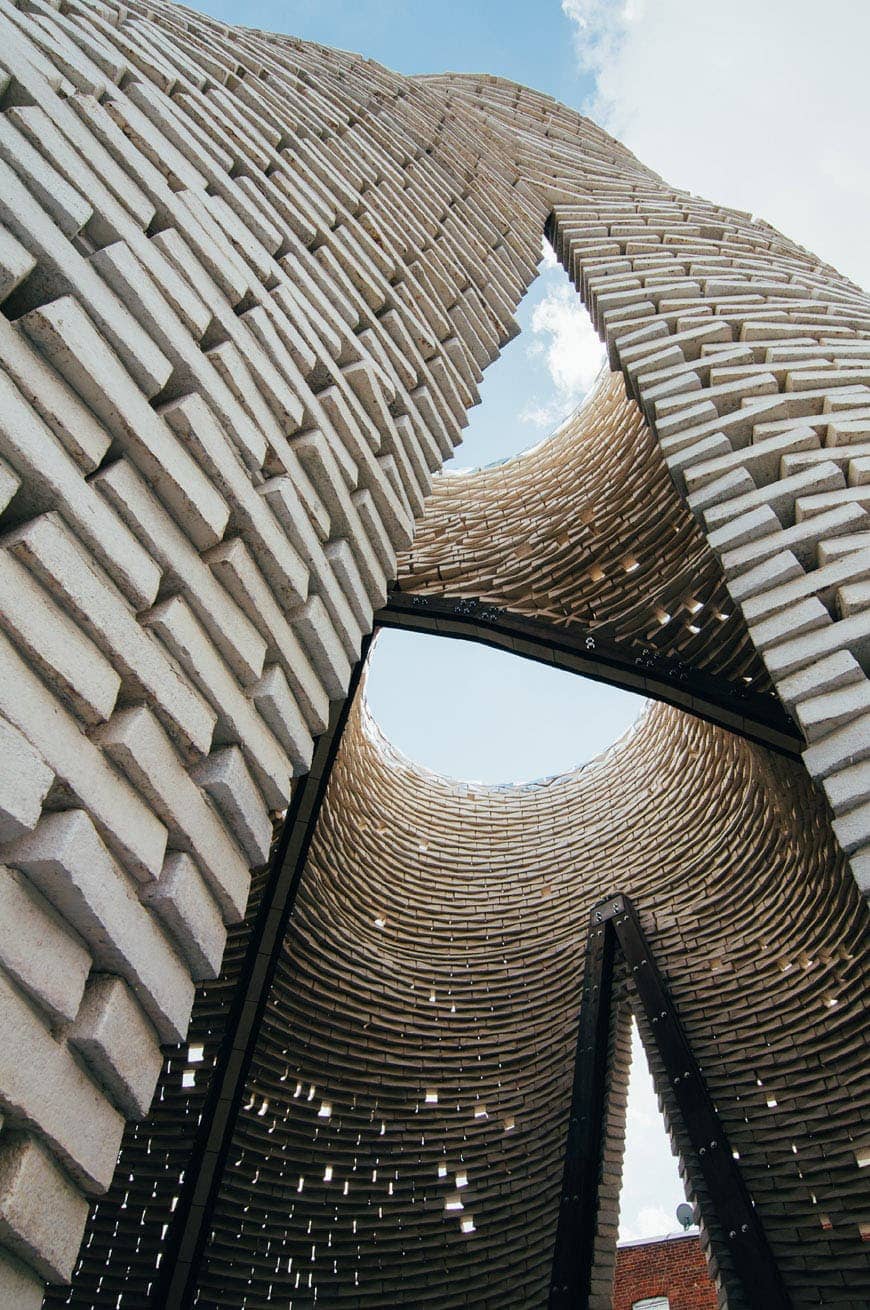 Photos by Andrew Nunes. Courtesy of The Creators Project
---
---
More in New York City
New York City
---
copyright Inexhibit 2022 - ISSN: 2283-5474