Broad Art Museum at MSU by Zaha Hadid
Place: East Lansing, MI
,
Country: United States
Owner: Michigan State University
Design architect:
Zaha Hadid Architects- London
Executive Architect:
Integrated Design Solutions -Troy, MI
Museum and Cultural Resources Consultant :
Lord Cultural Resources-Toronto, CAN & New York, NY
Text by Riccardo Bianchini, Inexhibit
Photos courtesy of Eli and Edithe Broad Art Museum at Michigan State University
For photo credits, see captions
Photo by Paul Warchol
The Eli and Edithe Broad Art Museum at Michigan State University | Zaha Hadid
Vibrant is a fascinating word. It can be used to describe people, such as Eli and Edithe Broad; institutions, such as the Michigan State University, and can be applied to buildings as well.
It is the exact definition that comes to mind when looking at the Broad Art Museum at the Michigan State University, designed by Zaha Hadid Architects.
Realized in 2012 thanks to a donation by philanthropists and art enthusiasts Eli and Edithe Broad, this contemporary art museum is hard to confuse with any other. Its pleated stainless steel panels give it a quite peculiar appearance, intended to "reflect the topographic and circulatory characteristics of its surrounding landscape. Its outer skin echoes these different directions and orientations – giving the building an ever-changing appearance that arouses curiosity yet never quite reveals its content." (Zaha Hadid Architects).
Top and bottom: photos by Paul Warchol
Middle: photo by Iwan Baan
The building is located on the northern edge of the MSU campus, facing Grand River Avenue, thus acting both physically and ideally as a connection between the campus, with its brick buildings and quiet areas crossed by footpaths, and the adjacent urban landscape.
The reflective skin of the building copes with this different kinds of perception, by reflecting them in various manners, depending on time of day, season and weather conditions, and somehow manipulating and incorporating their essence into the museum.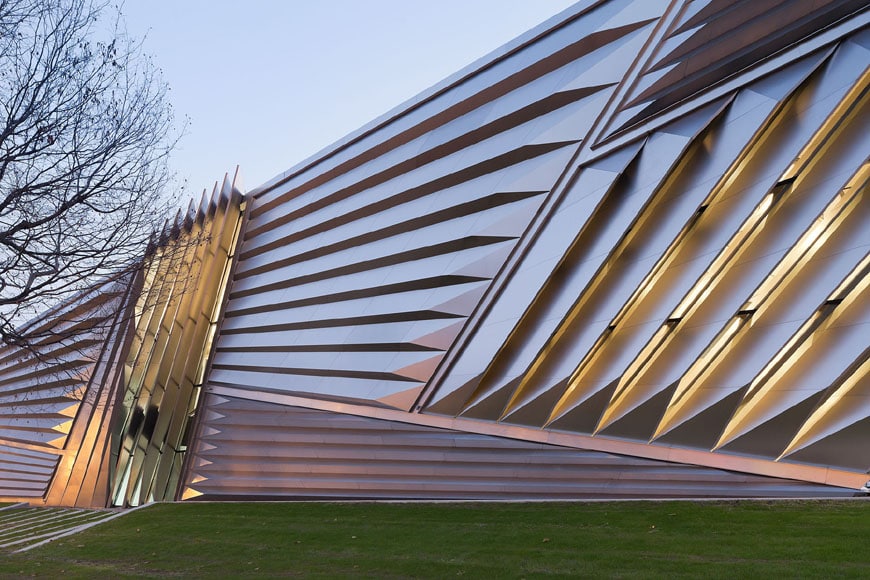 Top and bottom: photos by Iwan Baan
Middle: photo by Paul Warchol
On a floor area of 46,000 square feet, divided in three levels, the museum includes exhibition spaces, an educational facility, a works on paper study center, administration offices, a café and a shop as well as a public plaza and a sculpture garden.
Internally, more "introflexed" spaces alternate to areas when the visual relationship with the surrounding, through the pleated envelope, is evident; this is the case of the lobby, the education wing and the One West Gallery, an impressive double-height space, suitable for large artworks and installations.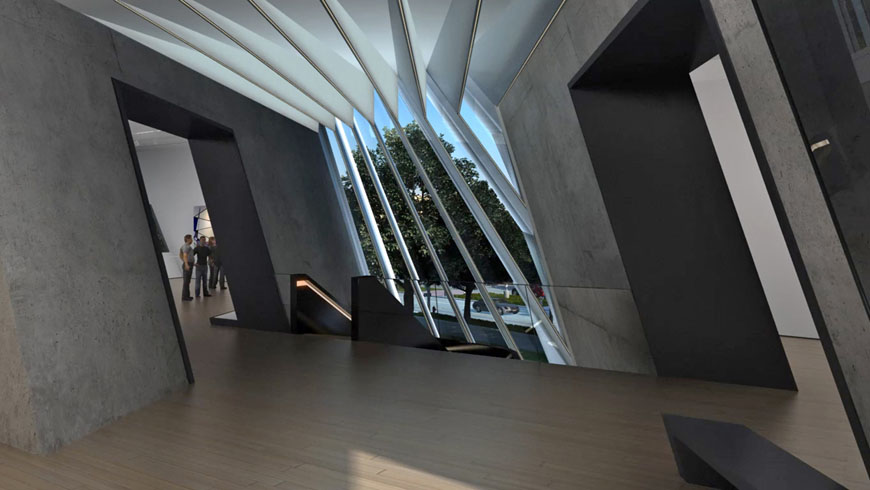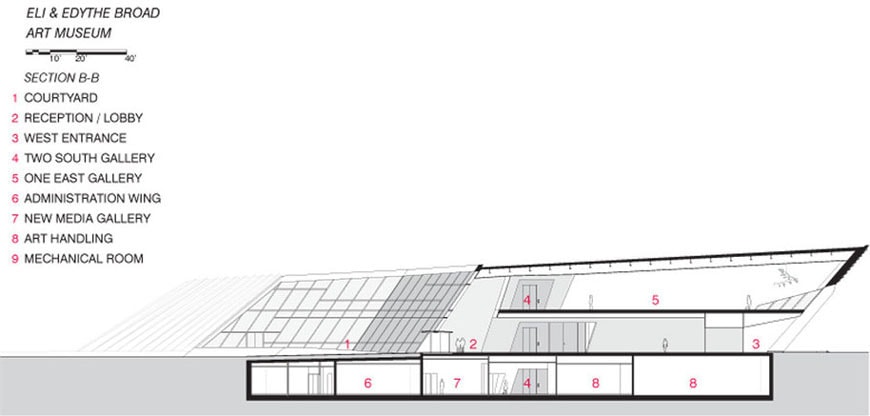 Top: rendering courtesy of Zaha Hadid Architects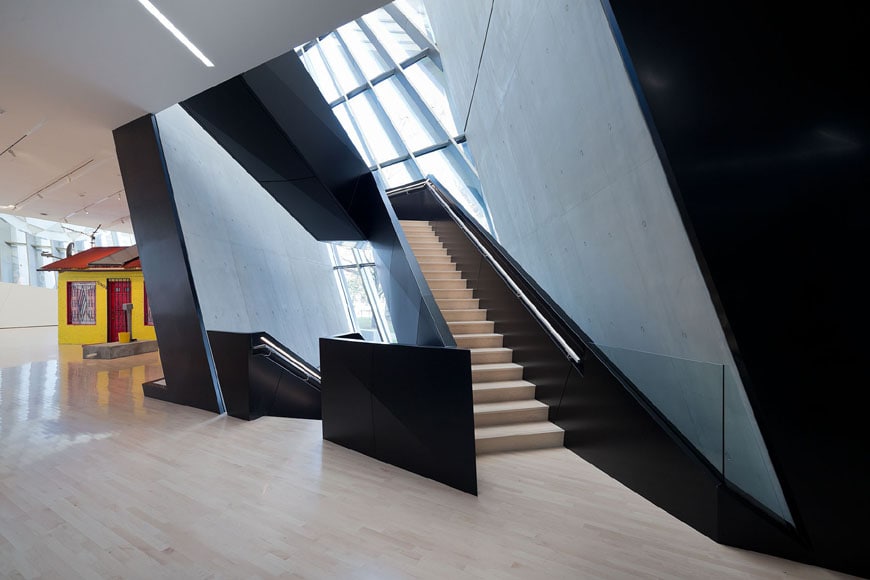 Top-left: photo by Iwan Baan; top-right: photo by Paul Warchol
Middle and bottom: photos by Iwan Baan
The Broad MSU activity is primarily devoted to a broad range of modern and contemporary visual art expressions, including new media and photography; a "place where artists' ideas, words, and actions create a vibrant center for questioning and understanding the modern world"*. This manifold approach to contemporary culture and the museum's attitude to work not simply as an exhibition facility but also as an experimentation and study center is evident in the Broad MSU study collection.
Indeed, the collection includes pieces ranging from Ancient Greece to Renaissance to Modernity, so to allow relating the contemporary art research to an historical context and reinforcing the role of the Broad MSU as "a laboratory for the new, grounded in a deep appreciation for the historical"*.
* from the Eli and Edythe Broad Art Museum at Michigan State University Fact Sheet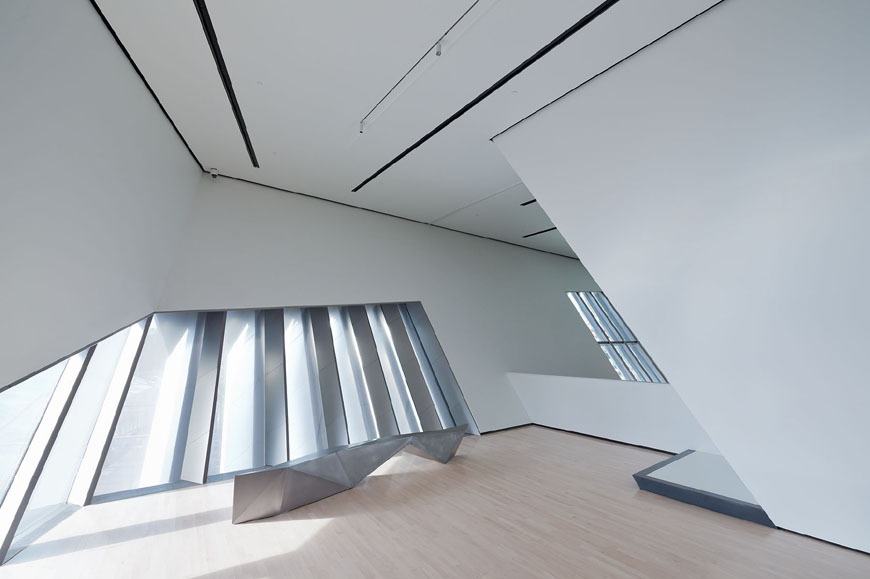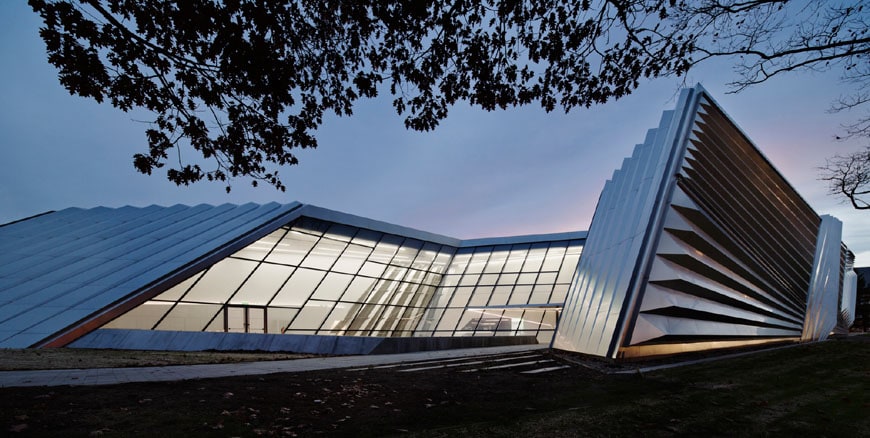 Top and middle-up: photo by Iwan Baaan
Middle-down and bottom: photo by Paul Warchol
Images courtesy of the Eli and Edythe Broad Art Museum at Michigan State University
---
More about Zaha Hadid Architects
Zaha Hadid Architects
---
---
---
copyright Inexhibit 2020 - ISSN: 2283-5474