Pack the bathtub in the suitcase! Contemporary design paths
Pack the bathtub in the suitcase!
Contemporary design paths.
Trends and projects on "Mobile living" and "Mobile interiors"
Text by Inexhibit.
Images: see captions
above: The portable bathtub X-tend by Carina Deuschl.
Pack the bathtub in the suitcase! Contemporary design paths
A portable folding bathtub, a wearable rechargeable lantern, a re-configurable sofa, a container/tray which goes up and down, sectional furniture which can be assembled without any tools and easily relocated.
Many of the designs presented in the report "Nomadic House. Temporary living"  – published by Trend Lab, the research group of the Milan Furniture Fair – are somewhat inspired by those conceived, during the '60s and '70s, by a generation of designers who subverted the traditional idea of the "middle-class house" furniture as a response to the a rapidly-changing society.
By introducing the concept that users should be actively involved in the process of giving shape to the domestic environment, asking them to compose and arrange their home space through new kinds of objects – such as organic-shaped upholstered furniture, modular shelves, and inflatable chairs – designers were, in those years, part of a revolution which broke the traditional and rigid layout of the domestic space also though theoretical proposals and utopian, unrealized designs.
Gaetano Pesce, "Up 5" Lounge Chair, 1969. Expanded Polyurethane foam covered in stretch-jersey fabric.
Archizoom Associati, "Superonda", 1967.  In the name of a free way of living, encouraged by its undulating surfaces, Superonda was intended to challenge middle class restraint.
Enzo Mari, "Glifo" bookcase, 1966. Realized in ABS Plastic, Glifo is modular system composed by three different units; the bookcase can be easily built without screws in several shapes.
The projects included in the research conducted by Milano Trend.Lab acknowledge a change in today's society, in which people more and more frequently relocate from city to city and even from one country to another many times during their life. Persons, mostly young, who form the so-called "urban nomads" community, and for whom temporariness and transiency are the rule rather than the exception. Originating from various reasons – work, personal relationship, study, search for a different way of life – such new lifestyles invite us to investigate novel and different forms of living.
The uncertainty of work and a reduced access to the traditional housing market, which in some countries has reached prohibitive prices, are factors which imply to rethink the very same concept of dwelling, no longer an investment or a place to live into for an entire life, while a space where to reside for a limited period and which could be potentially shared with other people.
At the last Venice Architecture Biennale, the exhibition in the United Kingdom pavilion, entitled "Home Economics", provocatively showcased 5 residential units, each based on a different time of permanence: from few hours, to one month, to years. Dwellings in which spaces and household objects are shared, with minimal functional blocks, and bedrooms reduced to the size of a mattress.
The need to frequently relocate typical of the Urban Nomads generation fosters services such as Roam, which offers rooms and apartments for short stays in large cities – such as Tokyo, Miami and San Francisco – not for vacation but to those who have to move for study or work or who simply appreciate a nomadic life and are free to work from home. Each resident has a private bedroom with bathroom, while kitchen, living-room, and a co-working space are shared with the other inhabitants of the house.
"Home Economics", Pavilion of Great Britain at the 2016 Venice Architecture Biennale. Photo (c) Inexhibit.
All in all, after fifty years, the project "Cushicle" by Archigram, a sort of mobile furniture which could be transformed from dress to chaise-longue to an entire room, doesn't seem so utopian, today.
"Cushicle", Archigram, 1964. The Cushicle and Suitaloon were conceptual design projects by Micheal Webb. The Cushicle was first designed in 1964 and the Suitaloon in 1967. They were part of the many wildly imaginative projects produced and published in the 1960's by the avant-garde British Architectural group, Archigram.
The Cushicle was part of Archigram's preoccupation with mobile urbanity. Webb revived the 1948 idea of the expandable home with his 'Drive-In Housing', featured in Archigram 3 1963.
(http://www.archigram.net/projects_pages/cuishicle.html) (http://architecturewithoutarchitecture.blogspot.it/p/cushicle-and-suitaloon-were-conceptual.html )
Therefore, in the multifarious map of contemporary design, the researches on mobile living and mobile interiors seem to be the most interesting one, as well as the most consistent with the times we are living in. Such objects, along with overtaking the concept of furniture as self-sufficient elements rigidly positioned inside a house, were designed to be moved from place to place, usually packed into compact cardboxes.
The portable bathtub X-tend by Carina Deuschl can be installed everywhere there is a water supply, either a room or outdoor space, in a garden in an hotel and, once used, it could be emptied though a pump. (http://www.carina-deuschl.com/portfolio-item/xtend/)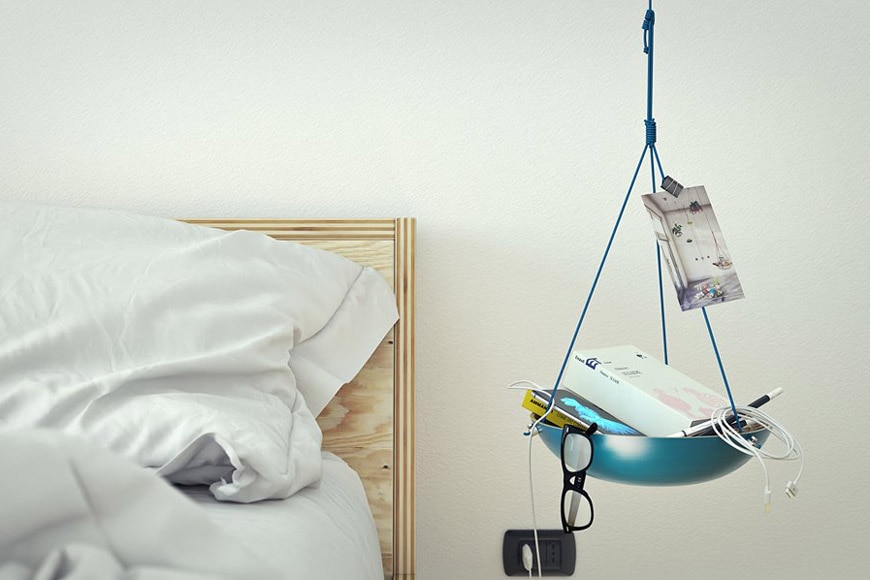 diPende, by Lorenzo Dalla Benetta, Luca and Simone Giordan, is an object composed of three parts: a contained made in bamboo, lacquered in various colors, a polyester strap, and a pulley system which allows people to place it in different positions inside a house and move it up and down to various heights. diPende can be used as a bedside table, a pocket emptier, a container for games, or to store those everyday objects which don't have a precise place to stay and could be in the way. (https://www.facebook.com/diPende.design/)
Hannaby sofa by Anikó Rácz (http://www.hannabisofa.hu/about-us-en)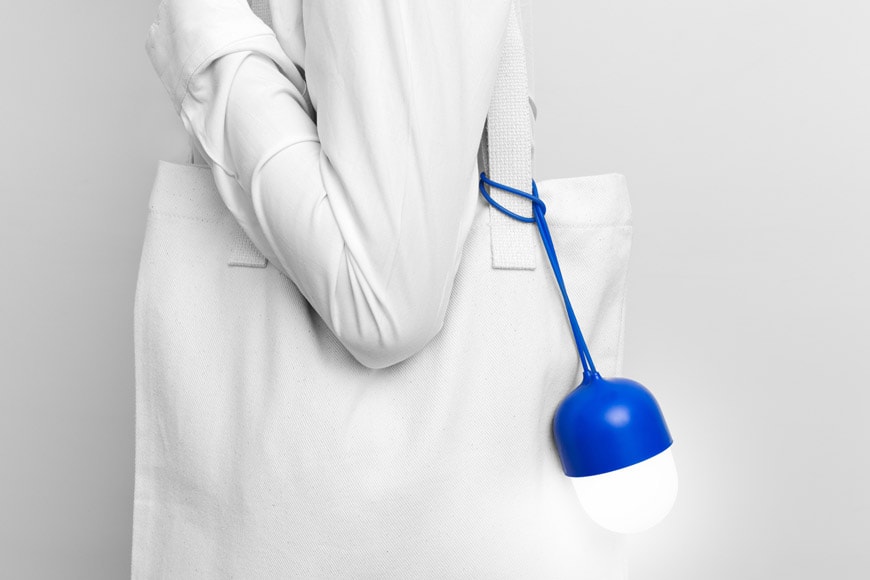 The portable lamp Clover, designed by Ionna Vautrin for Lexon Design, is the contemporary version of a lantern. It is a portable light, rechargeable in an USB port, which could be hung to every point of a house, to a bicycle handlebar, or worn like a cross body bag.
( http://www.lexon-design.com/collections/clover-collection.html)
British designer Sam Wrigley conceived a set of flat-pack, modular furniture.
Criss-Cross comprises objects which can adapt themselves to different spaces, thus getting rid of assembling and disassembling problems.(http://www.crisscrossfurniture.com/)
---
---
copyright Inexhibit 2020 - ISSN: 2283-5474