Chicago – The Burnham Pavilion by UNStudio
Place: Chicago
,
Country: United States
Year: 2009
Client: Chicago Metropolis 2020
Design architect: UNStudio - Ben van Berkel & Caroline Bos
Local architect: Garofalo Architects
Lighting design: Daniel Sauter, Tracey Dear
Text by Riccardo Bianchini
Photo credits: view bylines
Burnham Pavilion by UNStudio, 2009, courtesy of UNStudio
Chicago – The Burnham Pavilion by Ben van Berkel / UNStudio
In 2009, on the occasion of the celebrations for the centennial of Daniel Burnham's Plan of Chicago, the designs of two temporary pavilions were commissioned to Zaha Hadid and Ben van Berkel of Amsterdam-based UNStudio to be installed in Millenium Park to host installations and events dedicated to the city's urban history, and to present inspirational visions for the future of Chicago.
Although similar in size, scope, and budget, the two pavilions were radically different in morphology and materials; while that designed by Hadid was a concave pod-like structure made in aluminum and tensile fabric, the pavilion conceived by the Dutch architect was an open, permeable architecture made in steel and wood.
Burnham Pavilion, Zaha Hadid Architects, 2009, photography © Roland Halbe
Burnham Pavilion, UNStudio, photography by Joan Hackett
The UNStudio pavilion was composed of two horizontal planes, two slabs whose rigid geometry was a reference to the square grid which the Burnham plan was based upon.
Yet, the plan also featured an ensemble of "divergent" diagonal axes – aimed to provide richness and diversity to an otherwise too regular urban fabric – which were recalled by the van Berkel in the form of a series of diagonal steel beams, concealed in the roof slab, whereby the pavilion's geometry was bent and deformed in three points to create three eyelid-shaped supports and three openings in the roof, through which the visitors got surprising and unorthodox views of the Chicago skyline.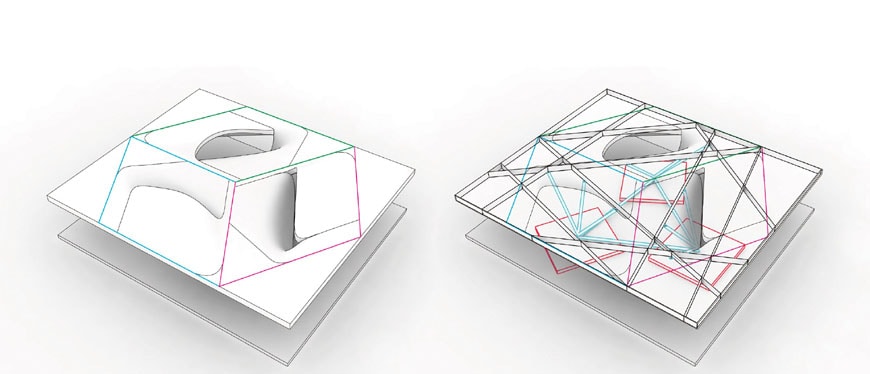 Burnham Pavilion, geometric scheme, image courtesy of UNStudio
Daniel Burnham, a plate from the Plan of Chicago, 1909, courtesy of The Art Institute of Chicago
Burnham Pavilion, elevations, images courtesy of UNStudio
Photo courtesy of The Burnham Plan Centennial
The load-bearing structure, the skeleton, of the pavilion was composed of carbon steel profiles, both I-beams and round hollow posts, wrapped in a sculptural skin composed of plywood sheets, coated with white reflective paint and fastened to a substructure made of plywood ribs.
The steel skeleton and the plywood rib substructure under construction, photos courtesy of The Burnham Plan Centennial
Photo courtesy UNStudio
The pavilion was not intended to accommodate exhibitions but as architectural sculpture, an artwork in itself.
"Programmatically the pavilion invites people to gather, walk around and through and to explore and observe. The pavilion is sculptural, highly accessible, functioning as an urban activator" (from the project description by UNStudio)
At night, the pavilion was illuminated by an interactive lighting system, designed by artist Daniel Sauter and light designer Tracey Dear, featuring an array of 42 variable-color LED lamps.
Controlled by a computer and including a series of light sensors embedded into the base of the pavilion, the system reacted to the presence of visitors, as well as to their number, changing the light colors and patterns by following a precise chromatic program inspired by the watercolor plates that illustrated the Burnham plan.
The Burnham Pavilion by UNStudio was inaugurated on August 1, 2009, and closed, as scheduled, three months later, it was thereafter disassembled and its materials recycled
The pavilion at night, photo by Tracy Dear
Burnham Pavilion by UNStudio, light color scheme, courtesy of Daniel Sauter
Photos by Tracy Dear
---
You may also be interested in...
Chicago – The Burnham Pavilion by Zaha Hadid
More in Chicago
Chicago
---
---
copyright Inexhibit 2020 - ISSN: 2283-5474